RAYA PROMOTION / RAYA DUIT REBATE UP TO RM 800*
PROTON RAYA PROMOTION / CASH REBATES $$$ / LOW INTEREST RATE / HIGH TRADE IN / HIGH CONNECTION WITH BANKS / INSURANCE SUPPORT/ FAST & EASY APPROVAL / 24 HOURS STANDBY YOUR CALL
Selamat berpuasa dan menyambut Ramadhan al-Mubarak.
Jaga diri dan kekal selamat bersama keluarga tersayang dirumah. Kami dari PROTON ingin mengucapkan selamat menunaikan ibadah puasa di bulan Ramadhan kepada semua umat Islam. Semoga anda dan keluarga dikurniakan kesejahteraan di dalam bulan yang penuh keberkatan ini. Mudah-mudahan, kita sentiasa sihat dan selamat bersama keluarga di bulan ini. https://www.protonbangi.com.my/contact-us/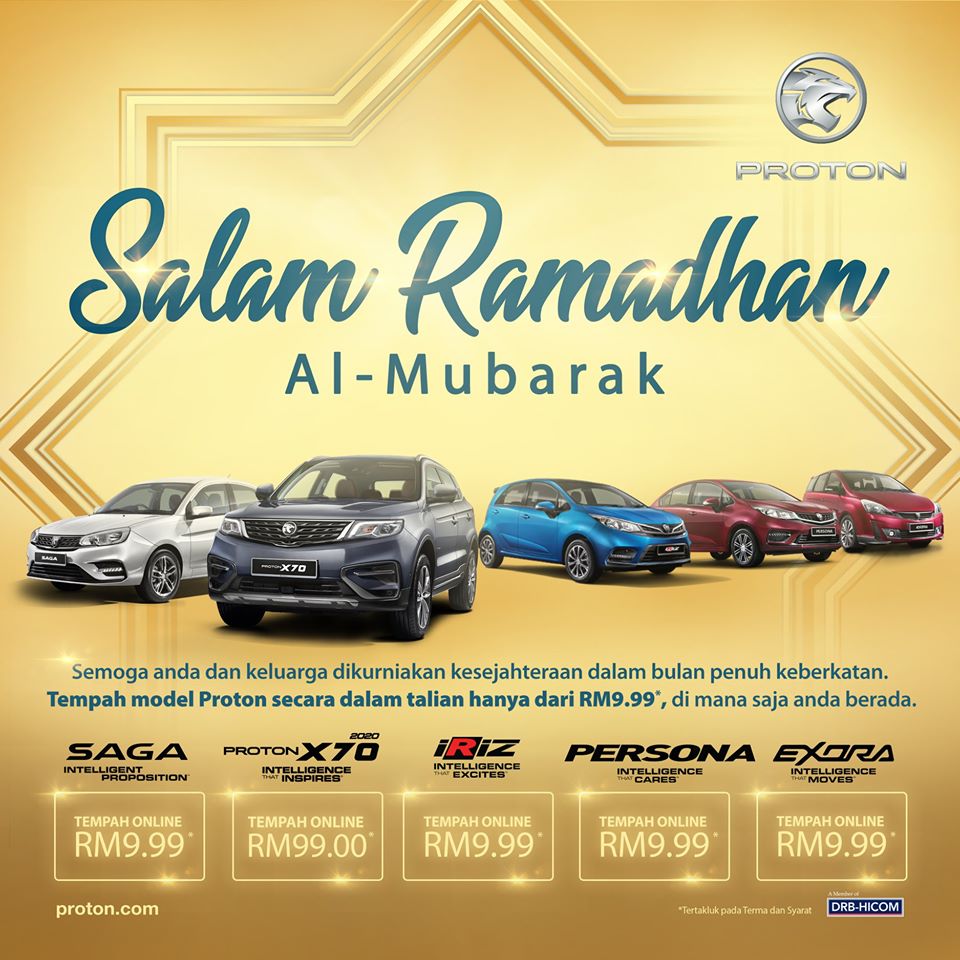 Tempah model Iriz, Saga, Persona, Exora secara dalam talian hanya dari RM9.99* manakala RM99* bagi X70 2020. https://www.facebook.com/ProtonBangiApple/?modal=admin_todo_tour
CASH REBATES $$$ / LOW INTEREST RATE / HIGH TRADE IN / HIGH CONNECTION WITH BANKS / INSURANCE SUPPORT / FAST & EASY APPROVAL / 24 HOURS STANDBY YOUR CALL
Stay safe by staying home during this time and book your favourite car with ONLINE BOOKING. THE APPLE brings you a convenient way to book our cars via Online Booking with booking fees that start from as low as RM9.99* for the Persona, Iriz, Exora or Saga and RM99* for the X70.
We focus on customer satisfaction and our technicians are well equipped with the expertise and passion to provide you the best automotive services. Our teams are here for you 24/7 and to guide you at our very best especially during this critical period. https://www.protonbangi.com.my/book-a-test-drive/
X70 SUV   /  BOOK NOW AT RM 99.00*  
5 – YEAR WARRANTY UNLIMITED MILEAGE
5- YEAR DATA PACKAGE (1GB/MONTH)
5- TIMES FREE LABOUR SERVICE
SAGA – Sedan  /  BOOK NOW AT RM 99.00*  /  RAYA DUIT REBATES
5 – YEAR WARRANTY UNLIMITED MILEAGE
3- TIMES FREE LABOUR SERVICE
PERSONA – Sedan   /  BOOK NOW AT RM 99.00*  /  RAYA DUIT REBATES
5 – YEAR WARRANTY*
5- YEAR DATA PACKAGE (1GB/MONTH)
3- TIMES FREE LABOUR SERVICE*
IRIZ – Hatchback    /   BOOK NOW AT RM 99.00*  /  RAYA DUIT REBATES
5 – YEAR WARRANTY*
5- YEAR DATA PACKAGE (1GB/MONTH)
3- TIMES FREE LABOUR SERVICE*
EXORA – MPV  /  RAYA DUIT REBATES  
5 – YEAR WARRANTY 150,000 KM MILEAGE
5- YEAR DATA PACKAGE (1GB/MONTH)
3- TIMES FREE LABOUR SERVICE
TERMS & CONDITIONS APPLY
For more information, please contact us Contact Information:
Fong www.wasap.my/60102223369/ProtonTheAppleBangi
Charlie www.wasap.my/60136826282/ProtonTheAppleBangi
https://www.protonbangi.com.my/wp-content/uploads/2022/10/proton-logo.png
0
0
theapple
https://www.protonbangi.com.my/wp-content/uploads/2022/10/proton-logo.png
theapple
2020-06-21 14:40:39
2022-02-26 08:18:42
PROTON RAYA PROMO